Alex Quade heads out to Normandy, France with today's Rangers as they visit the World War II battlefield.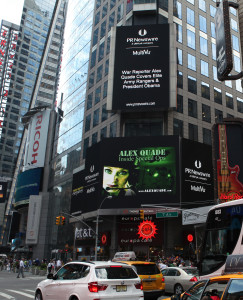 Editor's Note: President Barack Obama praised the "Greatest Generation" veterans at Normandy, France for the 70th Anniversary of D-Day recently. As part of his speech's theme, the President tied in this current "9/11 Generation" of warriors and veterans. Obama singled out U.S. Army Special Operations Rangers, whom he'd met during his last D-Day speech at Normandy. War reporter, Alex Quade, was exclusively embedded with those specific Rangers he referenced, and takes us along for their unique experience.
Among them, Sgt. First Class Cory Remsburg, whom the President brought to national attention during his State of The Union address, and Ranger Chaplain Jeff Struecker of the "Black Hawk Down" mission in Somalia. Alex's video piece is unlike any you've ever seen of Special Operators: go behind the scenes with elite Rangers who rarely go on camera, and who talk candidly with Alex before deploying back to Afghanistan. The U.S. Army Special Operations Command embed guidelines, allowed Alex Quade to show these Operators' faces, partial names as listed on their name-tags in public, and share their stories. A public affairs officer monitored every interview, to make sure there was no release of techniques, tactics or procedures.