TOPIC EXAMPLES
EXAMPLE TOPIC FOR WOMEN AND CORPORATE EXECUTIVES: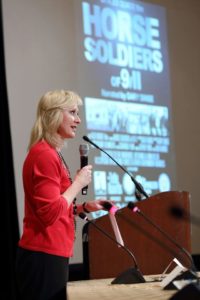 Women need tactical, frontline strategies to overcome obstacles in a testosterone-filled environment. As the only female war correspondent to cover the elite, closed-door, secretive U.S. Special Forces long-term on combat missions (for CNN, The New York Times, The Washington Times, HLN, FOX, etc.) – Alex Quade will share what she's learned from those elite Special Operators to gain an edge, and win the daily battles in your life and work.  Life is too short for B.S. and office politics. But when office-politics happen, Alex will show you her investigative reporter techniques to navigate corporate battles unscathed and with reputation intact.  From finding your battle buddy – to creating genuine connections with people to overcome roadblocks.  From gaining access to groups of people who don't want you in – to taking risks and getting your voice heard. Frontline strategies to overcome obstacles and get the job done – while still being a strong, confident woman.  Alex Quade's war zone experiences reaffirm something women everywhere have known since the dawn of time: that qualities such as courage, strength, compassion, loyalty and bravery have no gender, no color, and no age. You have a higher purpose and a reason for being on this earth – whatever your mission is; only you are uniquely qualified to do it. Alex will give you the Special Forces tools to "CHARLIE MIKE" — Continue your Mission!
Six Key Points Your Attendees Will Learn From Alex Quade's Presentation:
Get past the Gate-Keepers: How to gain people's trust, build rapport, and get them to share their secrets!
Hold your own & get your voice heard: Tactical, frontline strategies to be a strong, confident woman!
Find your Battle Buddy: How to create your personal support team to cover each other's back, or blind spot!
Check your Moral Compass: How to keep your integrity, values, and ethics, and come out of a crisis or hostile situation with your reputation intact!
"Charlie Mike" – Continue the Mission: How to overcome every obstacle (roadblock at work or in life) to get the job done.
Your personal Medal of Honor:  How to do something extraordinary every, single, ordinary day!
LISTEN TO AN EXAMPLE TOPIC FOR CORPORATE EXECUTIVES & TEAM MEMBERS:
Alex Quade Shares How To Get Past The Gate-keepers.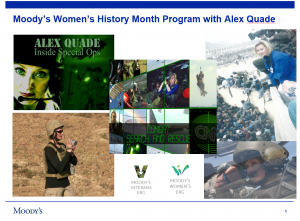 AN EXAMPLE OF CORPORATE PROGRAM
.