By Ford Springer
Entertainment Reporter, The Daily Caller
Alex Quade began covering war zones in 1998 and was almost perpetually embedded with US troops in Afghanistan or Iraq from 9/11 on. Her new Hollywood documentary, "Danger Close," focuses on her time on the ground with Special Operations Forces starting in 2006 with brief glances at the many dangerous missions she covered.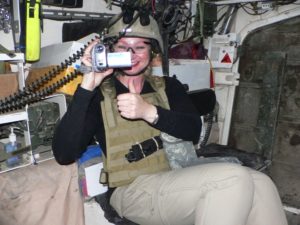 "Danger Close" begins with a large-scale air assault operation in Afghanistan. Quade jumps aboard a Chinook helicopter to film the mission which quickly turns into a combat search and rescue after one of the other Chinooks gets shot down. The soldiers she was embedded with tell her later she was supposed to be on the Chinook which lost seven souls that night.
"Alex and I were supposed to be on that bird, but had a chalk change (switch out) before take off," Joint Terminal Attack Controller James "Jimbo" Spreter, who was on that mission, told The Daily Caller.  "We had to grieve for our guys later, because this was only the first hour of Operation Kulang Harvest, and we all had jobs to do; Alex included."
The documentary highlights the story of Green Beret Staff Sgt. Rob Pirelli who was killed during a mission to clear a town in Diyala, the most violent province in Iraq. Quade got to know Rob during a prior Special Forces Company air assault on an area just north of Muqdadiyah, Iraq in the heart of al Qaeda controlled territory at the time.
"I asked to go in with the main effort tasked to detain an al Qaeda Emir, along with eleven of his associates spread out in a village," Quade told The Daily Caller. "The Public Affairs Officer opted out of the operation due to the danger."
"Due to the fact that there was no ground element capable of safely traversing the fifteen kilometers of heavily mined road, if anything had gone wrong, this operation would have resulted in a modern day LZ X-ray," a former Special Forces commander said, referencing "We Were Soldiers, Once and Young" by Joe Galloway. "Especially considering the large amount of al Qaeda reinforcements within five or six kilometers of this village." The Special Forces member must remain nameless due to operational security concerns.
"Alex didn't bat an eye. Rather, despite 120-degree heat, she always had a smile on her face and her camera rolling or at the ready," he said.
"I got to know Rob and the rest of the ODAs (Operational Detachment Alphas, or A-Teams) well during that operation because it was such a big one, involving an entire Special Forces company of A-Teams," Quade said.
In the film, Quade reconnects with Staff Sgt. Pirell
i's A-Team, and learns he was killed on another mission.  After being forced to return to America to recover from an injury sustained during a firefight, Quade meets his family and makes a promise to return to the compound he built when she returns to continue covering the war.
"Just like the Operators I cover, my word is my bond," Quade told The DC. "The Operators will never leave a fallen soldier behind, and I believe their stories should not be left behind either.  The truth should come home, too."
"Danger Close" delivers just the tip of the iceberg when it comes to Quade's work as a journalist following the missions of Special Forces A-teams while in the Middle East. Quade has accompanied countless Special Forces units with her "one-man band" approach with no crew and no support, just a video camera.
Quade is the first war reporter, male or female, ever embedded long-term with special forces and has captured footage of secret operations that had never been followed by reporters before. She earned the Medal of Honor Society's "Excellence in Journalism" Award for her unprecedented work as a combat correspondent for CNN. Quade was also awarded two  Edward R. Murrow Awards for her videos covering Special Forces for The Daily Caller and The New York Times.
"Much like the S
oldiers she covers, who look at their service as something greater than themselves and worth dying for, Alex displays the same selfless service for her audiences," the former Special Forces commander said of Quade.
"It is this obvious dedication and willingness to risk everything in the pursuit of powerful and meaningful stories that has earned her the greatest respect among Soldiers, Sailors, Marines, Airman, and Special Operators alike. She has won the trust and admiration of the Special Operations' community like no other reporter I have met," he added.
"I'm privileged to spend quality time with hard-working individuals doing amazing things in hostile locations. This film is for our them and their families.  It's also for the American taxpayer who deserves a glimpse of what their Special Forces do to keep terrorism from making it to our shores," Quade said.
"'Danger Close' is a combat film from the heart," retired Special Forces Colonel Hans Bush says of the film. "Alex Quade goes above and beyond to tell the story of today's Special Forces warriors. Her willingness to go into harm's way produced a film that honors the regiment and renews faith in combat reporting."
"Danger Close" is in theaters April 28, and available on DVD and video on demand by Memorial Day.  Quade's first book on Special Forces will be published in 2018 by Hachette Books.